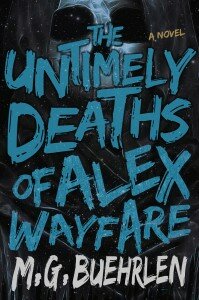 There's nothing like a good time travel story, and M.G. Buehrlen's The 57 Lives of Alex Wayfare hit the sweet spot for many. With the sequel just about to release, Buehrlen stopped by to chat about the series and what fans can look forward to.
Ale has always been plagued by visions of the past in The 57 Lives of Alex Wayfare. Those moments of vision leave her distracted, taken out of her world. But when Alex finds out that she is a Descender, somebody capable of traveling back in time through the Limbo, she discovers the truth: that she has 56 past lives to travel through, and somebody wants to stop her from living any of them.
The Untimely Deaths of Alex Wayfare releases on April 26. For more on M.G. Buehrlen, visit her website or follow her on . Don't forget to read past the interview to enter and win a copy of The 57 Lives of Alex Wayfare!
---
The Untimely Deaths of Alex Wayfare is about to hit shelves! But for those at home with a bad memory, can you remind us what happened in book one?
In book one, readers discovered (right along with Alex) that Alex is a Descender, capable of traveling back in time by accessing Limbo, the space between Life and Afterlife. Not only that, Alex is even more special — she's one of only two Transcenders, able to travel back in time to her own reincarnated pasts. After this discovery, she no longer felt like a freak, but more like a superhero. Alex traveled to some incredible time periods and places, she met Blue, had her first kiss, ran from gangsters, held up a steam train, got in a few gun fights, and turned lost treasures over in her hands. It was exciting and addicting until she realized that even villains have their own super powers, and she just might be the villain of her own story.
How has Alex changed since the start of book one?
Alex is much more mature and much more confident in her abilities and decisions. Where she was unsure before, now she has certainty. Where she wavered or buckled under pressure in book one, now she stands firm, for herself and her family. She even starts to see a few people in a new light — some aren't as bad as she thought, and others might not be as trustworthy as she once believed. I loved writing Alex as a more confident character, ready to walk into the face of death no matter what. I want to be more like her.
In The Untimely Deaths, Alex's focus is entirely on her sister. Can you tell us a little about her?
Alex's focus does certainly shift more to family in this book. Alex's sister, Audrey, is a freshman in high school, but her leukemia keeps her from attending class and joining in with normal teen life. She's been living vicariously through Alex's school/boy drama for a while now. Audrey is a quiet, peaceful soul who loves poetry, art, and dance. She's Alex's best friend, and Alex thinks if anyone deserves 57 lives, it's Audrey, who has barely gotten one. So when Audrey's cancer worsens, Alex only has one choice: to use her time traveling ability to find Audrey's cure.
Alex travels to MANY places in her newest story. Which one was your favorite to write and research? Did you learn anything that you wanted to include that didn't make the cut?
Alex's visit to China in the year 1770 was definitely my favorite. I've never been to China, so I had to do a LOT of research. I immersed myself in the culture as much as one can through film and literature. I spoke to as many people as I could about the culture and the landscape of Northern China. I even starting learning Tai Chi because Alex practices kung fu in her past life and uses it quite a bit in the book. I loved Tai Chi so much that I'm still taking classes. I don't think I ever want to stop. I also learned quite a bit of Mandarin that never made it into the final book, many cultural myths and legends, and much about the origins of kung fu. The history of kung fu was the most fascinating for me, but sadly none of it appears in the book!
Will Alex find Blue? Okay, obviously you can't tell us flat-out, but give us a hint, something!
Alex finds Blue all the time! She's always running into him, even when she's not really prepared to. But if you're asking if she finds him in Base Life… that I can't say. You'll have to read the book!
What else do you want readers to know about The Untimely Deaths?
It's about death, yes, but it's also about life. It's about changing your perspective, sometimes willingly, sometimes unwillingly, and learning how to let go and trust your path in life.
What books would you recommend for eager readers to devour while waiting for more books from you?
I cannot recommend these titles enough: Night Speed by Chris Howard, Wink, Poppy, Midnight by April Genevieve Tucholke, and The Shadow Queen by CJ Redwine.
---
Fill out the form below to win The 57 Lives of Alex Wayfare by M.G. Buehrlen. Giveaway prizes donated by Diversion Books. Open to entrants in the U.S. only. Void where prohibited.