Maybe you don't want to cull through our giant lists of weekly releases and just want to know the best things to snag this month. So here's a list of 5 July YA books to watch for!

Because You Love to Hate Me by Ameriie
Publisher: Bloomsbury USA Children's
Release date: July 11th
In this unique YA anthology, thirteen acclaimed, bestselling authors team up with thirteen influential BookTubers to reimagine fairy tales from the oft-misunderstood villains' points of view. These fractured, unconventional spins on classics like "Medusa," Sherlock Holmes, and "Jack and the Beanstalk" provide a behind-the-curtain look at villains' acts of vengeance, defiance, and rage–and the pain, heartbreak, and sorrow that spurned them on. No fairy tale will ever seem quite the same again!

This Is How It Happened by Paula Stokes
Publisher: HarperTeen
Release date: July 11th
When Genevieve Grace wakes up from a coma, she can't remember the car crash that injured her and killed her boyfriend Dallas, a YouTube star who had just released his first album. Genevieve knows she was there, and that there was another driver, a man named Brad Freeman, who everyone assumes is guilty. But as she slowly pieces together the night of the accident, Genevieve is hit with a sickening sense of dread—that maybe she had something to do with what happened.

The Last Magician by Lisa Maxwell
Publisher: Simon Pulse
Release date: July 18th
In modern day New York, magic is all but extinct. Esta is a talented thief, and she's been raised to steal magical artifacts from the sinister Order that created the Brink. With her innate ability to manipulate time, Esta can pilfer from the past, collecting these artifacts before the Order even realizes she's there. And all of Esta's training has been for one final job: traveling back to 1902 to steal an ancient book containing the secrets of the Order—and the Brink—before the Magician can destroy it and doom the Mageus to a hopeless future.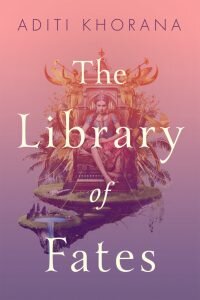 The Library of Fates by Aditi Khorana
Publisher: Razorbill
Release date: July 18th
No one is entirely certain what brings the Emperor Sikander to Shalingar. To keep the visit friendly, Princess Amrita has offered herself as his bride, sacrificing everything—family, her childhood love, and her freedom—to save her people. But her offer isn't enough. The unthinkable happens, and Amrita finds herself a fugitive, utterly alone but for an oracle named Thala, who encourages Amrita to go on a quest to find the fabled Library of All Things, where it is possible for each of them to reverse their fates.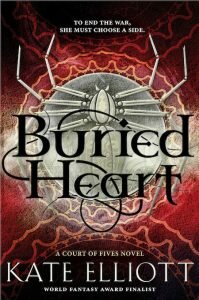 Buried Heart (Court of Fives #3) by Kate Elliott
Publisher: Little, Brown Books for Young Readers
Release date: July 25th
Jessamy is the crux of a revolution forged by the Commoner class hoping to overthrow their longtime Patron overlords. But enemies from foreign lands have attacked the kingdom, and Jes must find a way to unite the Commoners and Patrons to defend their home and all the people she loves. Will her status as a prominent champion athlete be enough to bring together those who have despised one another since long before her birth?
What book are you most excited for? Sound off in the comments below!