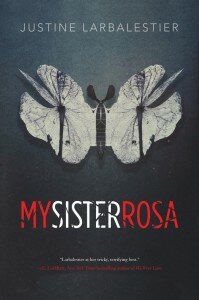 The Mystery Writers of America (MWA) announced their Nominations for the 2017 Edgar Allan Poe Awards, honoring the best in mystery fiction, non-fiction and television published or produced in 2016. Five young adult novels made the list: Three Truths and a Lie by Brent Hartinger, The Girl I Used to Be by April Henry, Girl in the Blue Coat by Monica Hesse, My Sister Rosa by Justine Larbalestier, and Thieving Weasels by Billy Taylor.
In Three Truths and Lie, Hartinger tells the story of four friends who gather for a weekend of fun deep in the forest, and the consequences of an innocent game of three truths and a lie that means not everyone will live to find out which one is the lie.
A plot of twists and turns, two murders that went unsolved and a girl who is determined to find the truth. That is the premise of the story Henry tells in The Girl I Used to Be, with Olivia running against the clock to find the person who killed her parents before they find her.
Set to the backdrop of 1943 Amsterdam, Girl in the Blue Coat tells the story of black market dealer Hanneke. On a routine delivery, a client asks for her help in finding a Jewish teenager Mrs. Janssen had been hiding, who has vanished without a trace from a secret room.
In My Sister Rosa, Larbalestier weaves the chilling story of Che and his ten year old sister, Rosa. Rosa is smart, talented, pretty, and so good at deception that Che's convinced she must be a psychopath. She hasn't hurt anyone yet, but he's certain it's just a matter of time. When their parents go away on a trip, it is up to Che to keep Rosa from being hurt — or from hurting others.
In Thieving Weasels, Taylor's story follows Cameron Smith. Cameron's life would be perfect, except that Cameron Smith is actually Skip O'Rourke, and Skip O'Rourke ran away from his grifter family four years ago. When his family comes back with an offer he can't refuse, Cameron finds himself once again tangled up in the family affairs, and all the secrets and manipulations they bring, he'd sworn off years ago.
The Edgar Awards will be presented to the winners at the MWA's 71st Gala Banquet on April 27 at the Grand Hyatt Hotel, New York City.