Welcome to A Variety of Brains. Are you looking for a neurodiverse book? I've got it listed for you. This week, I'm spotlighting YA characters with PTSD.
A lot of these may not be good representation. It could even be most of them, but that's not my call to make. On my last few major lists like this for YA Interrobang, I pulled any books I knew were problematic, but I hesitate to do that with this one, simply because neurodiversity in itself is incredibly diverse. Take, for example, the way that anxiety manifests itself varies from person to person.
Some experiences will feel true to some readers, but those same experiences could be triggering for others. I don't want to deny anyone the chance to find themselves in the pages. Before picking up any of these books, please look at reviews, ask friends, make sure that what's in these pages won't harm you. I can't tell you what won't work for you, what will hurt you, and I can't vet all of these books. Please, please be careful.

Among Others by Jo Walton
Publisher: Tor Books
Release date: January 18 2011
Raised by a half-mad mother who dabbled in magic, Morwenna Phelps found refuge in two worlds. As a child growing up in Wales, she played among the spirits who made their homes in industrial ruins. But her mind found freedom and promise in the science fiction novels that were her closest companions. Then her mother tried to bend the spirits to dark ends, and Mori was forced to confront her in a magical battle that left her crippled–and her twin sister dead. Fleeing to her father whom she barely knew, Mori was sent to boarding school in England–a place all but devoid of true magic. There, outcast and alone, she tempted fate by doing magic herself, in an attempt to find a circle of like-minded friends. But her magic also drew the attention of her mother, bringing about a reckoning that could no longer be put off.

Boy Toy by Barry Lyga
Publisher: Houghton Mifflin Harcourt
Release date: September 24 2007
Five years ago, Josh's life changed. Drastically. And everyone in his school, his town—seems like the world—thinks they understand. But they don't—they can't. And now, about to graduate from high school, Josh is still trying to sort through the pieces. First there's Rachel, the girl he thought he'd lost years ago. She's back, and she's determined to be part of his life, whether he wants her there or not. Then there are college decisions to make, and the toughest baseball game of his life coming up, and a coach who won't stop pushing Josh all the way to the brink. And then there's Eve. Her return brings with it all the memories of Josh's past. It's time for Josh to face the truth about what happened. If only he knew what the truth was…

Bruised by Sarah Skilton
Publisher: Amulet
Release date: March 5 2013
Imogen has always believed that her black belt in Tae Kwon Do made her stronger than everyone else–more responsible, more capable. But when she witnesses a holdup in a diner, she freezes. The gunman is shot and killed by the police. And it's all her fault. Now she's got to rebuild her life without the talent that made her special and the beliefs that made her strong. If only she could prove herself in a fight–a real fight–she might be able to let go of the guilt and shock. She's drawn to Ricky, another witness to the holdup, both romantically and because she believes he might be able to give her the fight she's been waiting for. But when it comes down to it, a fight won't answer Imogen's big questions: What does it really mean to be stronger than other people? Is there such a thing as a fair fight? And can someone who's beaten and bruised fall in love?

Cold Summer by Gwen Cole
Publisher: Sky Pony Press
Release date: May 2 2017
Kale Jackson has spent years trying to control his time-traveling ability but hasn't had much luck. One day he lives in 1945, fighting in the war as a sharpshooter and helplessly watching soldiers—friends—die. Then the next day, he's back in the present, where WWII has bled into his modern life in the form of PTSD, straining his relationship with his father and the few friends he has left. Every day it becomes harder to hide his battle wounds, both physical and mental, from the past. When the ex-girl-next-door, Harper, moves back to town, thoughts of what could be if only he had a normal life begin to haunt him.

The Freak Observer by Blythe Woolston
Publisher: Carolrhoda Books
Release date: August 1 2010
The Freak Observer is rich in family drama, theoretical physics, and an unusual, tough young woman Loa Lindgren. When her younger sister dies, 16-year-old Loa's clockwork galaxy collapses. The Freak Observer is a startling debut about death, life, astrophysics, and finding beauty in chaos.

The Perks of Being a Wallflower by Stephen Chbosky
Publisher: MTV Books
Release date: February 1 1999
Charlie is a freshman. And while he's not the biggest geek in the school, he is by no means popular. Shy, introspective, intelligent beyond his years yet socially awkward, he is a wallflower, caught between trying to live his life and trying to run from it. Charlie is attempting to navigate his way through uncharted territory: the world of first dates and mix tapes, family dramas and new friends; the world of sex, drugs, and The Rocky Horror Picture Show, when all one requires is that perfect song on that perfect drive to feel infinite. But he can't stay on the sideline forever. Standing on the fringes of life offers a unique perspective. But there comes a time to see what it looks like from the dance floor.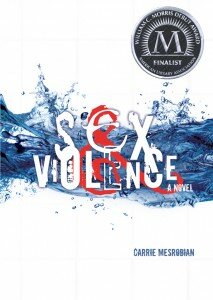 Sex & Violence by Carrie Mesrobian
Publisher: Carolrhoda LAB
Release date: October 1 2013
Sex has always come without consequences for seventeen-year-old Evan Carter. He has a strategy–knows the profile of The Girl Who Would Say Yes. In each new town, each new school, he can count on plenty of action before he and his father move again. Getting down is never a problem. Until he hooks up with the wrong girl and finds himself in the wrong place at very much the wrong time. After an assault that leaves Evan bleeding and broken, his father takes him to the family cabin in rural Pearl Lake, Minnesota, so Evan's body can heal. But what about his mind? Nothing seems natural to Evan anymore. Nothing seems safe.

Shadows on the Moon by Zoe Marriott
Publisher: Candlewick Press
Release date: April 24 2012
Trained in the magical art of shadow-weaving, sixteen-year-old Suzume is able to re-create herself in any form – a fabulous gift for a girl desperate to escape her past. But who is she really? Is she a girl of noble birth living under the tyranny of her mother's new husband, Lord Terayama? Or a lowly drudge scraping a living in the ashes of Terayama's kitchens? Or is she Yue, the most beautiful courtesan in the Moonlit Lands? Whatever her true identity, Suzume is destined to use her skills to steal the heart of a prince in a revenge plot to destroy Terayama. And nothing will stop her, not even the one true aspect of her life- her love for a fellow shadow-weaver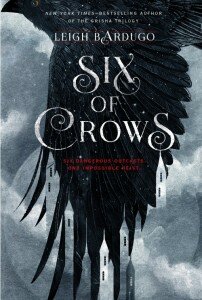 Six of Crows by Leigh Bardugo
Publisher: Henry Holt & Co.
Release date: September 29 2015
Ketterdam: a bustling hub of international trade where anything can be had for the right price—and no one knows that better than criminal prodigy Kaz Brekker. Kaz is offered a chance at a deadly heist that could make him rich beyond his wildest dreams. But he can't pull it off alone. A convict with a thirst for revenge. A sharpshooter who can't walk away from a wager. A runaway with a privileged past. A spy known as the Wraith. A Heartrender using her magic to survive the slums. A thief with a gift for unlikely escapes. Kaz's crew are the only ones who might stand between the world and destruction—if they don't kill each other first.

Something Like Normal by Trish Doller
Publisher: Bloomsbury USA Children's
Release date: June 19 2012
When Travis returns home from a stint in Afghanistan, his parents are splitting up, his brother's stolen his girlfriend and his car, and he's haunted by nightmares of his best friend's death. It's not until Travis runs into Harper, a girl he's had a rocky relationship with since middle school, that life actually starts looking up. And as he and Harper see more of each other, he begins to pick his way through the minefield of family problems and post-traumatic stress to the possibility of a life that might resemble normal again. Travis's dry sense of humor, and incredible sense of honor, make him an irresistible and eminently lovable hero.

These Gentle Wounds by Helene Dunbar
Publisher: Flux
Release date: May 8 2014
Five years after an unspeakable tragedy that changed him forever, Gordie Allen has made a new home with his half-brother Kevin. Their arrangement works since Kevin is the only person who can protect Gordie at school and keep him focused on getting his life back on track. But just when it seems like things are becoming normal, Gordie's biological father comes back into the picture, demanding a place in his life. Now there's nothing to stop Gordie from falling into a tailspin that could cost him everything—including his relationship with Sarah, the first girl he's trusted with the truth. With his world spinning out of control, the only one who can help Gordie is himself… if he can find the strength to confront the past and take back his future.

The Unbecoming of Mara Dyer by Michelle Hodkin
Publisher: Simon & Schuster Books for Young Readers
Release date: September 27 2011
Mara Dyer believes life can't get any stranger than waking up in a hospital with no memory of how she got there. It can. She believes there must be more to the accident she can't remember that killed her friends and left her strangely unharmed. There is. She doesn't believe that after everything she's been through, she can fall in love. She's wrong.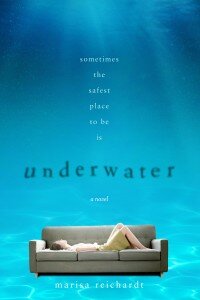 Underwater by Marisa Reichardt
Publisher: Farrar, Straus, and Giroux Books for Young Readers
Release date: January 12 2016
Morgan didn't mean to do anything wrong that day. Actually, she meant to do something right. But her kind act inadvertently played a role in a deadly tragedy. In order to move on, Morgan must learn to forgive—first someone who did something that might be unforgivable, and then herself. But Morgan can't move on. She can't even move beyond the front door of the apartment she shares with her mother and little brother. Morgan feels like she's underwater, unable to surface. Unable to see her friends. Unable to go to school When it seems Morgan can't hold her breath any longer, a new boy moves in next door. Evan reminds her of the salty ocean air and the rush she used to get from swimming. He might be just what she needs to help her reconnect with the world outside.