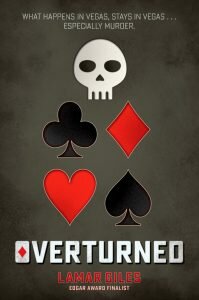 Some of the best summer readers are fast-paced thrillers that you just can't put down – and Lamar Giles' Overturned definitely fits that description.
When Nikki's dad's murder conviction is overturned he becomes obsessed with discovering who framed him. As her dad digs into the seedy underbelly of Vegas, Nikki is drawn into his hunt for the truth.
Overturned is available now. Take a peek behind-the-scenes of Overturned below before running to your local independent bookstore to snatch it for your summer reading list.
---
Your newest book is Overturned! Can you tell us a bit about it, and where your inspiration for Nikki Tate came from?
Getting to Nikki was a sort of circuitous journey. Really, poker came first. I was introduced to the game a few years ago, and as someone who's always looking for interesting traits or talents to give characters, the idea of a poker playing teen detective had a certain noir appeal. Once poker was on the table, it became a question of where this person plays? Vegas. Then, where do they live? A casino? Then, what's the casino called? Andromeda's Palace. That, was the true catalyst. At first, the Poker-Playing-Teen-Detective was this amorphous blob, but once I hit that cool sounding casino name, and knowing what I know about the myth of Andromeda (I encourage readers to look it up… it might give them a SLIGHT edge in solving the ultimate mystery of the book), Nikki took shape.
You're known for writing edge-of-your-seat thrillers. When you're writing characters like Nikki and "Nick Pearson" and Lauren Daniels, how do you balance character work with keeping the plot ticking forward and the mysteries hidden?
That's a great question, and people might be surprised by the answer. In my first drafts that hardly anyone sees, the narrative is often clumsy and plodding. I'll write out everything, and in that draft there might be extra, obvious clues, and too much character detail, and painfully long descriptions, and unconvincing misdirection. Then, when it's time to re-write (because writing is re-writing, folks) it becomes an exercise of taking out everything that is not essential. Recently, I saw the newest entry in the Fast and Furious franchise — don't worry, this isn't spoilery — and there's a scene where Vin Diesel's character wants everything ripped out of a car that won't hinder it from actually being drivable. He wants it to be lighter, so it will be faster. My process is almost identical. That edge-of-your-seat feel comes from not carrying extra weight.
Overturned is set in Las Vegas, where Nikki's dad is framed for murder; did you visit Vegas to work on the story? Is there anything you learned or wanted to include that didn't make the final cut?
I did visit Vegas. I had to. In the beginning, I thought maybe I could get by with books, and Google Maps, and videos. But, I had the opportunity to spend a few days there, and I'm so glad I did. It made me realize that all of those shortcuts just wouldn't cut it. There's no way internet searches could properly relay the feel of that city. I would've gotten a lot wrong. For example: early on, I had a vision of Nikki and her Dad dancing in the body of water outside of the Bellagio hotel, because just seeing it in pictures or on TV it looks almost like a wading pool. Not the case. At. All. It's a man made lake. Maintenance workers use small boats to fix things in it. Someone passing by would have to leap a guardrail to get in that water, and they'd likely be arrested five seconds after breaking the surface. All that to say, you miss things when you don't see the landmarks in real life. Readers who knew Vegas would've known I was faking it. So, I'm glad I made that trip.
As far as some bit of research not making the cut: there's a Mob Museum in Vegas, relatively close to where Nikki would live if Andromeda's Palace was real. I think it's mentioned briefly in the book, but I thought I might make it more prominent, considering where the mystery goes. But, ultimately, it just wasn't necessary. When you do all of that research, the temptation is to include everything, but really, you learn all the details simply so you can tell small plausible lies.
What attracts you to writing mysteries and thrillers?
I love danger. I mean, not REALLY. Real life danger isn't fun at all, but fictional danger — where a hero beats overwhelming odds in exciting ways — I'm all for. Mysteries and thrillers give me that fix. Plus, in a real world where so many oppressed people aren't able to beat back danger, I like creating characters that are brave, and bold, and who resist in ways us real folks sometimes can't. It's fun to uncover the conspiracy, unmask the bad guy, and see justice served—even if it's fiction. Who knows, given the age of my general audience, someone might be inspired to become the kind of hero I write about at the time our real world needs it most. I like to think that.
What YA thrillers and mysteries would you recommend for fans of your books?
Oh. Where to start? It's easier for me to name authors as opposed to individual books, and just know if you seek these names, you can't really go wrong. Anything by Elle Cosimano, Kimberly Reid, Tiffany Jackson, Barry Lyga, Sona Charaipotra and Dhonielle Clayton (a stellar writing team), Ashley Elston, Kim Savage, Mindy McGinnis, Diana Renn, Megan Abbott, Meg Medina (specifically Burn Baby Burn), Anne Blankman, I could go on…
Is there anything else you want people to know about Overturned?
Aside from the mystery, know that it's also a story about our relationships — family, friends, romantic — what they can be versus what they should be. Emotional turmoil can be just as compelling as chasing down clues, and Nikki gets put through the wringer here — in the best ways possible. This story is stripped down — light and fast. You're going to enjoy the ride!