What July YA books release this week? We have a list of this week's new YA books!
U.S.

Black Light Express (Railhead #2) by Philip Reeve
Publisher: Switch Press
Release date: August 1st
There was nothing, and then there was a train. A train with two passengers: a petty thief from a dead-end town, and an android girl who could be more human than the rest of us…

Blight by Alexandra Duncan
Publisher: Greenwillow
Release date: August 1st
When an agribusiness facility producing genetically engineered food releases a deadly toxin into the environment, seventeen-year-old Tempest Torres races to deliver the cure before time runs out.

The Con (Genius #2) by Leopoldo Gout
Publisher: Feiwel & Friends
Release date: August 1st
Pursued by the police, the FBI, and Kiran Biswas, visionary CEO and evil mastermind, three teen geniuses have to move fast and stay low as they race to save the world.

Just Friends by Tiffany Pitcock
Publisher: Swoon Reads
Release date: August 1st
With Jenny, Chance can live a normal life. And with Chance, Jenny can have exciting teen experiences. Through it all, they hold on to the fact that they are "just friends."
Kissing Max Holden by Katy Upperman
Publisher: Swoon Reads
Release date: August 1st
When Max climbs through her window one night, Jill knows she shouldn't let him kiss her. But she can't resist, and when they're caught, Jill swears it'll never happen again.

Love Is Both Wave and Particle by Paul Cody
Publisher: Roaring Brook Press
Release date: August 1st
Levon Grady and Samantha Vash are both students at a high school for high-achieving but troubled teens. They have been chosen for a year-long project. What happens will transform their lives.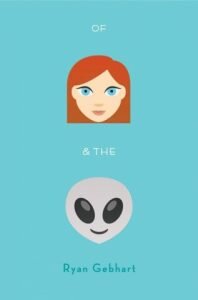 Of Jenny and the Aliens by Ryan Gebhart
Publisher: Candlewick Press
Release date: August 1st
Derek is convinced Jenny is The One. But Jenny has other plans, and they may or may not include Derek. He'll try anything to win her—even soliciting advice from the alien who shows up in his hometown.

Omega (Infinity Division #2) by Jus Accardo
Publisher: Entangled Teen
Release date: August 1st
One mistake can change everything. Ashlyn Calvert finds that out the hard way when a bad decision leads to the death of her best friend, Noah Anderson. Only Noah isn't really gone…

Project Pandora by Aden Polydoros
Publisher: Entangled Teen
Release date: August 1st
When strange things start happening―waking up with no memory of the night before or the burner phone he can't let out of his sight―Tyler starts to wonder if he can trust himself.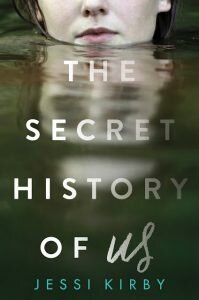 The Secret History of Us by Jessi Kirby
Publisher: HarperTeen
Release date: August 1st
When Olivia awakes in a hospital bed following a near-fatal car accident, she can't remember how she got there. And it's not just recent events – she's lost all memory of events that happened years ago.

Sleeper by MacKenzie Cadenhead
Publisher: Sourcebooks Fire
Release date: August 1st
When Sarah agrees to participate in a trial to cure her sleep behaviour disorder, at first, she seems cured. But then she starts sharing eerily similar dreams with her classmates…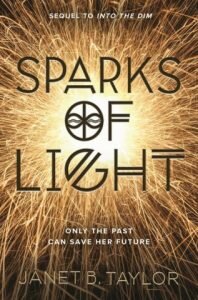 Sparks of Light (Into the Dim #2) by Janet B. Taylor
Publisher: HMH Books for Young Readers
Release date: August 1st
When the Viators learn of a plan to steal a dangerous device from the inventor Nikola Tesla, only a race into the past can save the natural timeline from utter destruction.

Strange Alchemy by Gwenda Bond
Publisher: Switch Press
Release date: August 1st
On Roanoke Island, the legend of the 114 colonists who vanished without a trace still haunts the town. When 114 people suddenly disappear in present day, it seems history is repeating itself.

These Things I've Done by Rebecca Phillips
Publisher: HarperTeen
Release date: August 1st
After a year away, Dara is back at her old high school. It's been 15 months since the accident that killed Aubrey, and not a day goes by that Dara isn't racked with guilt over her role in her best friend's death.

Venturess (Mechanica #2) by Betsy Cornwell
Publisher: Clarion Books
Release date: August 1st
Mechanical armies and dark magic await Nicolette and her friends as they uncover devastating secrets about the past and fight for a real happily-ever-after for two troubled countries—and for themselves.

The Way It Hurts by Patty Blount
Publisher: Sourcebooks Fire
Release date: August 1st
When Elijah snaps a photo of Kristen that he posts online with a comment that everybody misunderstands, suddenly they're in a new spotlight as online backlash spins out of control.

We Now Return to Regular Life by Martin Wilson
Publisher: Dial
Release date: August 1st
Sam Walsh had been missing for years. His sister, Beth, thought he was dead. His friend Josh thought it was his fault. They were the last two people to see him alive. Until now. Because Sam has been found.

When I Am Through with You by Stephanie Kuehn
Publisher: Dutton
Release date: August 1st
Ben Gibson doesn't lie. He'll tell you exactly about what happened on what started as a simple school camping trip in the mountains. About who lived and who died.

The Wood by Chelsea Bobulski
Publisher: Feiwel & Friends
Release date: August 1st
When Winter's dad goes missing during his nightly patrol of the wood, it falls to her to patrol the time portals, protect the travelers who slip through them and discover why the woods are changing.
AUSTRALIA

Terrortide (The Seven Signs #6) by Michael Adams
Publisher: Scholastic Press
Release date: August 1st
Yasmin, Isabel, Andy, Dylan, JJ, Zander and Mila enter the mysterious DARE awards, and win fame and fortune. But they aren't prepared to be swept up in the dangerous events that follow.
U.K.

Freshers by Tom Ellen & Lucy Ivison
Publisher: Chicken House
Release date: August 3rd
Phoebe can't wait to be a fresher. Luke is reeling from a breakup. Thrown into a world of new friends, parties and social media disasters – can Phoebe and Luke survive the year, let alone find each other?