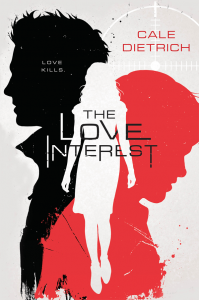 Beautiful girl meets good guy. Then she meets bad boy. Usually after, a love triangle begins and the girl has to choose between the boys. But what if the two guys fell for each other instead of the girl?
Say hello to The Love Interest by Cale Dietrich. The story follows Caden, the "nice" boy, and Dylan, the "bad" boy, both trying to win the heart of Juliet, a super-smart high schooler. But the two are actually part of a secret agency that cultivates Love Interests – spies that are physically and socially sculpted in order to get close to people with potential in hopes of getting prized secrets in the future. While both are well-trained, neither know how to handle emotions that could be the end for both of them.
"The premise came from a thought one morning which was basically 'how cool would it be if there was a training academy where all the dreamy love interests from YA books learnt their skills," said Dietrich. "I have no idea why that thought popped into my head, but I thought it was funny so I instantly started writing. I very quickly fell in love with the idea and the world, and I didn't really look back."
The dreamy love interests in most YA books usually fit the "good" and "bad" boy tropes – the good guy being the really sweet, shy, boy-next-door and the bad boy being the insanely intense, muscular boy who is harsh on the outside but can show his soft side.
But the list of tropes in YA extends much, much further.
Dietrich spent a lot of time researching TV tropes. "I mainly used research to make sure that the references I were using were really broad – I didn't want it to seem like I was parodying one book, because I think that would be mean and go against what I was trying to do," said Dietrich, who chose his archetypal main characters because "they're the most instantly recognisable love interests in YA (as in boy-next-door VS bad boy). So it made sense from a meta standpoint.
"Plus, there's something really compelling to me about a boy-next-door falling for a bad boy."
The Love Interest takes a trope and twists it – but it's also the characters' first time really dealing with romantic emotions and physical attraction towards anyone first-hand. Huge parts of Dietrich's story came from his own experiences of figuring out his sexuality and coming out to people.
"Those early stages weren't great for me, and left me feeling really tokenised and sort of shelved? I just remember having this feeling that some people weren't taking me or my ambitions as seriously because I'm gay and that really bothered me. To explain it, it felt like the bar had been lowered for what people thought I could achieve, and that upset me enough to write a book about those feelings."
And Dietrich has channeled his emotions into a wonderful read that will give you all the feels.
"First up, I hope people have a good time reading it! I really hope it's a fun book that people find it entertaining, I figure that's my job first and foremost. And if they are to get something out of it I would hope it's a feeling of confidence in who they are, particularly if that reader is LGBTQIA+."
The Love Interest is available now. For more on the book or Cale Dietrich, check out the author's website or follow him on .