In relation to my post on intersectionality and lady/non-binary leads in YA sci-fi, here some books by various authors (out now and to come) that I believe showcase some of the best of what our future has to offer if we let it. As I said before, YA sci-fi (and science fiction in general no matter the category) represents hope for a lot of people. Hope in breaking free and discovering things larger than yourself or even, more simply, discovering yourself. Hope we'll learn from our mistakes as we forge into the cosmos. Hope our future is more than just a monochrome of white skin and straight lines.
These books are, hopefully, just the tip of the iceberg when it comes to blowing up the gate in YA sci-fi. By taking what we currently have in terms of lady/non-binary leads and intersectionality and increasing it ten, a hundred, a thousand-fold. Many seeds have been planted through the tireless work of many authors and people in publishing. We need to keep planting. We need to keep nurturing.
We need to grow to the stars.

Illuminae (Illuminae Files #1) by Amie Kaufman and Jay Kristoff
Publisher: Knopf Books for Young Readers
Release date:
Exes Kady and Ezra find themselves working together when their planet gets invaded. They're forced onto two separate spaceships, whose crews are hiding secrets from those on board – secrets they're determined to uncover.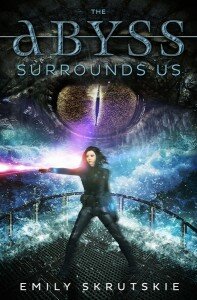 The Abyss Surrounds Us (The Abyss Surrounds Us #1) by Emily Skrutskie
Publisher: Flux
Release date: February 8th
For Cassandra Leung, bossing around sea monsters is just the family business. She's been a Reckoner trainer-in-training ever since she could walk, raising the genetically-engineered beasts to defend ships as they cross the pirate-infested NeoPacific. When the pirate queen Santa Elena swoops in on Cas's first solo mission and snatches her from the bloodstained decks, Cas's dream of being a full-time trainer seems dead in the water. But Cas has fought pirates her entire life. And she's not about to stop.

On the Edge of Gone by Corinne Duyvis
Publisher: Amulet Books
Release date: May 17th 2016
January 29, 2035. That's the day the comet is scheduled to hit—the big one. A generation ship is scheduled to leave Earth behind to colonize new worlds after the comet hits. But everyone on the ship has been chosen because of their usefulness. Denise is autistic and fears that she'll never be allowed to stay. Can she obtain a spot before the ship takes flight? What about her mother and sister? Dare Mighty Things by Heather Kaczynski
Publisher: HarperTeen
Release date: 2017
A brilliant Indian-American girl competes to win the last astronaut slot for an experimental mission into space. 27 Hours by Tristina Wright (me!)
Publisher: Entangled Teen
Release Date: 2017
A group of queer teens living on a colonized moon must race against the clock sto stop an attack that could destroy their cultures.

Starflight by Melissa Landers
Publisher: Disney Hyperion
Release date: February 2nd 2016
Life in the outer realm is a lawless, dirty, hard existence, and Solara Brooks is hungry for it. Just out of the orphanage, she needs a fresh start. She's so desperate to reach the realm that she's willing to indenture herself to Doran Spaulding, the rich and popular quarterback who made her life miserable all through high school, in exchange for passage aboard the spaceliner Zenith. When Doran learns he's been framed on Earth for conspiracy, he and Solara must get past their enmity to work together and evade those out for their arrest.

Beyond the Red by Ava Jae
Publisher: Sky Pony Press
Release date: March 1
Alien queen Kora is the first female ruler of her territory in generations, but her people are rioting and calling for her violent younger twin brother to take the throne. Eros is a rebel soldier hated by aliens and human alike for being a half-blood. When Kora and Eros are framed for the attempted assassination of her betrothed, they flee. Their only chance of survival is to turn themselves in to the high court, but when they uncover a violent plot to end the human insurgency, they must find a way to work together to prevent genocide.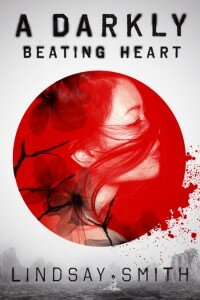 A Darkly Beating Heart by Lindsay Smith
Publisher: Roaring Brook Press
Release date: October 25th 2016
After a failed suicide attempt, Reiko's parents send her from their Seattle home to spend the summer with family in Japan to learn to control her emotions. But Reiko finds herself slipping back in time into the life of Miyu, a young woman even more bent on revenge than Reiko herself.

Sound by Alexandra Duncan
Publisher: Greenwillow Books
Release date: September 22nd 2015
As a child, Ava's adopted sister Miyole watched her mother take to the stars, piloting her own ship from Earth to space making deliveries. Now a teen herself, Miyole is finally living her dream as a research assistant on her very first space voyage. If she plays her cards right, she could even be given permission to conduct her own research. But when her ship saves a rover that has been viciously attacked by looters and kidnappers, Miyole—along with a rescued rover girl named Cassia—embarks on a mission to rescue Cassia's abducted brother, and that changes the course of Miyole's life forever.
Like this post? Read the rest of our Starship Ladies series.