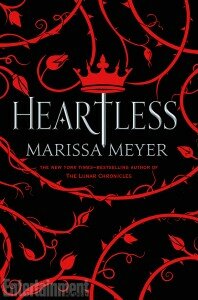 The Lunar Chronicles author Marissa Meyer announced a book tour for her new book Heartless, the origin story of the Queen of Hearts.
In Heartless, Catherine is one of the most desirable women in Wonderland and the object of the king's affections. However, she is wholly disinterested in the king and wants to open up her own pastry shop, supplying the Kingdom of Hearts with delicious sweets. At the ball where she is expected to receive the king's proposal, she meets Jest, the handsome court jester. Although the attraction between them is unmistakable, to avoid scandal they enter into a passionate, secret courtship.
Tour dates can be seen below and are subject to change:
November 8 – Launch Party (Details TK) (Seattle, WA)

November 9 at 7 p.m. – Provo City Library (Provo, UT)

November 10 at 7 p.m. – Barnes & Noble Union Square (New York, NY)

November 11 – Northshire Books (Saratoga Springs, NY)

November 12 at 2 p.m. – Anderson's Bookshop (Naperville, IL)

November 13 at 2 p.m. – Cuyahoga County Public Library (Parma, OH)

November 14 at 7 p.m. – Little Shop of Horrors (Decatur, GA)

November 15 – Parnassus Books (Nashville, TN)
In addition to Heartless, Meyer is also scheduled to release two graphic novels set after the events of The Lunar Chronicles. These novels will have many of the series' main characters, including Iko, Scarlet, Cinder, Cress, and Winter. The first of the graphic novel due, Wires and Nerve, is expected to release January 2017.
"To this day, comics and graphic novels are one of my favorite forms of storytelling, and I can't wait for readers to experience the world of the Lunar Chronicles in such a wonderfully visual format," Meyer told the Washington Post.
Heartless releases on November 8. You can sign up for updates about the tour on the Lunar Chronicles website. For more on Marissa Meyer, you can visit her website or follow her on .