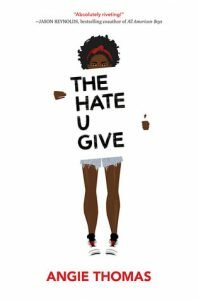 Angie Thomas's The Hate U Give is the overall winner of the 2018 Waterstones Children's Book Prize.
The Hate U Give follows Starr who lives in two worlds: that of her privileged fancy prep school in the suburbs and the poor neighborhood where she resides. But the balancing act she's kept up is shattered when her childhood best friend, Khalil, is shot and killed by a white police officer. Soon after, Khalil's story becomes a national story and Starr's the only one who can answer what really happened that night.
The Waterstones Children's Book Prize is presented by Waterstones booksellers and champions new talent in children's literature, with the goal "[uncovering]hidden talent in children's writing." It is presented annually and honors a novel published in the previous calendar year.
Correction: Congratulations, AGAIN, !!! also just won the overall Waterstones Children's Book Prize!!! 💥😵💥

— Brooks Sherman is not here right now ()