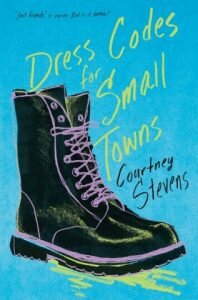 A beautiful story of friendship and identity, Dress Codes for Small Towns by Courtney C. Stevens explores love and all it's gray areas.
As a tomboy with a knack for causing trouble with her friends and the daughter of her small town's preacher, Billie McCaffrey has always struggled under the scrutiny of who people think she should be. Things don't get any easier for her when her best friend, Janie Lee, reveals that she may be in love with their best friend, Woods, because Billie might also be in love with Woods… and Janie Lee.
Dress Codes for Small Towns releases August 22. For more on Courtney C. Stevens, visit her website or follow her on .
---
Coming-of-age stories are one of the pillars of young adult literature. Being a teenager means exploring, experiencing things for the first time, and honing and cultivating perspectives through life experiences.
For Stevens, her teenage years meant exploring how she saw the world.
"To be a teenager (at least for me) was to build an emotional rubric for life. A first emotional rubric. Which meant, every time I felt a new feeling there weren't enough comparisons to correctly identify whether I liked Tom Cruise because he wore aviator sunglasses and played volleyball shirtless or because he was a fierce friend to Goose," said Stevens.
"And it wasn't until I invited exploration into my life that I created variance. With each exploration, my definitions became more sophisticated."
In Dress Codes for Small Towns, readers can see that part of Stevens reflected in Billie – in the way she slowly creates a more defined, sophisticated way to describer her feeling, and in how she adjusts and expands the way she sees things.
The love between Billie and her friends is palpable throughout the novel. The six of them sometimes refer to themselves as the Hexagon, who operate like extensions of each other, and the love they feel for one another is intrinsic and essential in who they are.
"I love my own ensemble of friends, and putting that love on the page — its successes and failures — felt pretty dang glorious."
That love, however, doesn't prevent them from occasionally letting each other down. In fact, it makes those shortcomings harder for Billie to navigate because of the way her friends see her and if they understand her at all.
Harder still can be the scrutiny of strangers or larger communities.
For Billie, her father's role as the town preacher acts as another layer of scrutiny. Not only was she being critiqued and criticized for not behaving how a girl should behave, but she was also criticized for falling short of the perfection expected by nature of being the preacher's daughter.
Despite the criticism Billie's received from fellow church-goers, her faith and belief in religion and church is never shaken. She stays true to her beliefs; something that Stevens purposefully worked into Billie's character, giving her "a small portion of that spirit" that Stevens has herself.
"I loved being a youth minister," said Stevens. "Listening — really listening — to student high/low points each Wednesday night. Teaching and learning and living beside them. I looked at those students and saw the next generation of world changers. That delighted me, and I'm interested in writing things that delight me."
While Billie's faith was unshakeable by those who scrutinized her, that didn't make things easier. Trying to figure out who she was and who she loved felt like it was constantly at odds with societies expectations.
For teens who feel that same conflict, Stevens had some advice:
"1. Being at odds doesn't make you enemies. 2. There is always something to love about where you are and who you are. 3. You are not infinitely stuck unless you decide 'I am infinitely stuck.'"
She also had a few readalike suggestions – "cousins" of Dress Codes for Small Towns:
"Kids of Appetite by David Arnold, The Serpent King by Jeff Zentner, Six of Crows by Leigh Bardugo, The Raven Cycle by Maggie Stiefvater, Georgia Peaches and Other Forbidden Fruits by Jaye Robin Brown, Dumplin' by Julie Murphy, and 99 Days by Katie Cotugno."
Her last suggestion?
"Don't try the microwave trick at home, kiddos."